$38.00
PRODUCT ID : FAGOPS1
Japanese enjoy Ohanami (flower watching). "I enjoy the Sakura blossoms even more knowing they honor friendship between the United States and Japan. It is my plan to encourage more communities to plant tree groves celebrating peace.

About the Artist
Artist, Farnoosh Ahmadi considers herself to be a citizen of the natural world. "My work represents my belief of loving all living creatures. I started Garden of Peace by swirling water based blue acrylic paint. I slowly added colors that represent the inclination of tranquillity that I perceive. You will notice that I like to experiment with textures, forms and lines. Sometimes, it takes many layers before my image takes shape. I like to fuse drawing patterns into my painting. The patterns can be detected by relaxing your eyes. Some patterns I create are small so you may need to look close at the details. It is my hope that the viewer will transcend the hustle and bustle of the real world into the realm of Peace.
Farnoosh choose to allow 88 signed and numbered prints to be made. 88 is a number of prosperity and fortune in Asian culture.
This rich colored gallery print will look wonderful on your wall for years to come.
Dimensions 20 inches (ca. 51 cm) wide by 30 inches (ca. 76 cm) tall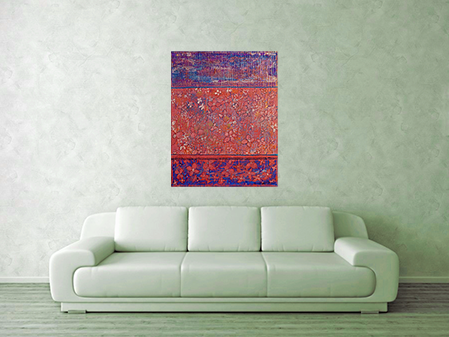 Payment methods accepted









Billing Questions please call 202.285-3238