$36.00 SALE PRICE $30.00
PRODUCT ID : 9813020
This hand-blown frontier style thick soda glass ornaments have been made by American artisans whose family has been in the glass-blowing art/business for generations.
Using a blow pipe, colloidal gold is added molten molten glass as it is inflated into a ruby bubble (or parison) that range from 2 to 2.5 inches in diameter. Each glass ball ornament is simply gorgeous and no two are alike due to its totally Custom nature.
Our glass balls are famous in decorating "Pink Tie" parties. The look great with led lighting (talk to us). During wedding season we cannot make enough. So we ask for large orders please give us lead time to put your order into production. For large orders we also do payment installments and discount depending on the number being purchased.
Customers also purchased: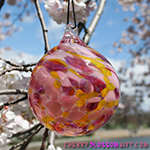 Payment methods accepted









Billing Questions please call 202.285-3238